We get a lot of printers coming through our shop.  Some of them come in with scuff and tape marks.
Here is the four step process I use to clean these discolorations –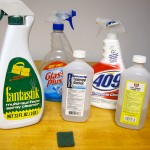 First I use a household cleaner like Fantastik, Windex, or 409.  Many case this does the job.

Second, is use Isopropyl alcohol which is usually safe for plastics

Third, if the stain is still not going away, I use Ethyl Rubbing Alcohol which is more intense.
Warning, use these cleaning methods sparingly and you may want to test the back of your printer first to make sure the cleaner is safe.
Finally, if the discoloration on your printer came from exposure to sunlight, this can not be cleaned away.